BLOG
Join Red-on-line Webinar "Accident Investigation, Management and Reporting"
#accident
#health and safety
Are you required to manage incident and accident reporting?
Do you need an efficient tool to monitor your incident investigation?
Our experts will discuss the processes of accident investigation, focussing on gathering information, root cause analysis, and reporting. They will reply to your questions during the Q&A session and will introduce you to the new Red-on-line Incident Management module. Join Keith Rhodes, Health and Safety Consultant and Chartered Fellow of IOSH for our 60 minutes webinar "Accident Investigation, Management and Reporting", next July 13th at 2 p.m. (BST).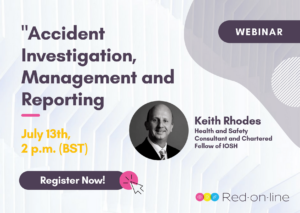 July 13th, 2 p.m. (BST)