BLOG
Changes to the EPA's Significant New Uses of Chemical Substances Regulations
#Chemicals
#EPA
#Health & Safety
#HSE
#OSHA
#regulation
#TSCA
EPA proposes changes to its significant new uses of chemical substances regulations
In the Federal Register published July 28, 2016 the Environmental Protection Agency (EPA) released a proposed rule, updating its regulations addressing significant new uses of chemical substances. These proposed changes are intended to harmonize EPA's regulations under the Toxic Substances Control Act (TSCA) with the Occupational Safety and Health Administration's (OSHA's) hazard communication standard, as well as clarify and update its regulations for significant new use rules (SNURs) and its reporting requirements for premanufacture notices (PMNs) and other TSCA section 5 notices. EPA proposes modernizing its workplace protection regulations to reflect recent regulatory changes by both OSHA and the National Institute for Occupational Safety and Health (NIOSH) to their respective respiratory protection standards and regulations. EPA intends to replace the reference to 42 CFR part 84, which contains NIOSH's most current regulation for testing and certifying respirators. Most manufacturers and processors are currently subject to this regulation, instead of the older regulation found in 30 CFR part 11. If changed, all manufacturers and processors subject to a current SNUR would be permitted to follow the updated respiratory protection requirements without requiring a SNUN notice.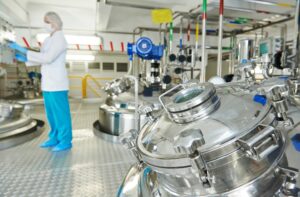 EPA also proposes revising 40 CFR 721.63 to make it a significant new use not to implement a hierarchy of controls to protect workers. Employers subject to applicable SNURs would be required to determine and use appropriate engineering and administrative controls prior to providing personal protective equipment to workers. EPA proposes aligning its hazard communication requirements with OSHA's hazard communication standard, 29 CFR 1910.1200. Currently, it is considered a significant new use if a company does not develop a written hazard communication program, which may be based on an existing hazard communication program, or one based on the Globally Harmonized System (GHS). EPA's proposed rule would require written hazard communication programs developed according to OSHA's hazard communication standard whenever required in a SNUR issued after this rulemaking is finalized. EPA proposes creating a bona fide procedure that applies to all SNURs that contain any confidential information in the SNUR, including the significant new use. EPA is also proposing to modify the bona fide procedure that allows EPA to disclose the confidential significant new use designations to a manufacturer or processor who has established a bona fide intent to manufacture or import or process a particular chemical substance. Under proposed changes to 40 CFR 720.38, 720.45, and 723.50, EPA would require any safety data sheet (SDS) already developed to either comply with OSHA requirements or developed by a notice submitter for other purposes to be submitted as part of the PMN, SNUN, low volume exemptions (LVEs), low release and exposure exemptions (LoREXs), or test marketing exemption (TME) application. EPA will not require submitters to develop an SDS, but only submit an already developed SDS. EPA is proposing to revise the computation of estimated surface water concentrations. The current equation does not consider the amounts of a chemical substance released to a surface water after control technology. Under the revised rule, manufacturers and processors would be permitted to account for reductions in surface water concentrations resulting from wastewater treatment. Public comments will be accepted through September 26, 2016.

Sources :

EPA, Proposed rule, Significant New Uses of Chemical Substances; Updates to the Hazard Communication Program and Regulatory Framework; Minor Amendments to Reporting Requirements for Premanufacture Notices, 81 FR 49598, July 28, 2016 Enjoyed reading this article? Here are just a few others that might interest you: EPA Approves North Carolina Air Quality Standards (US) EPA Approves New Hampshire Air Plan (US)

Our EHS experts are at your disposal and will be happy to answer your questions.

We invite you to subscribe to our newsletter.