BLOG
US | WEBINAR | The Pandemic in Winter
#COVID-19
#Health & Safety
#Occupational health & Safety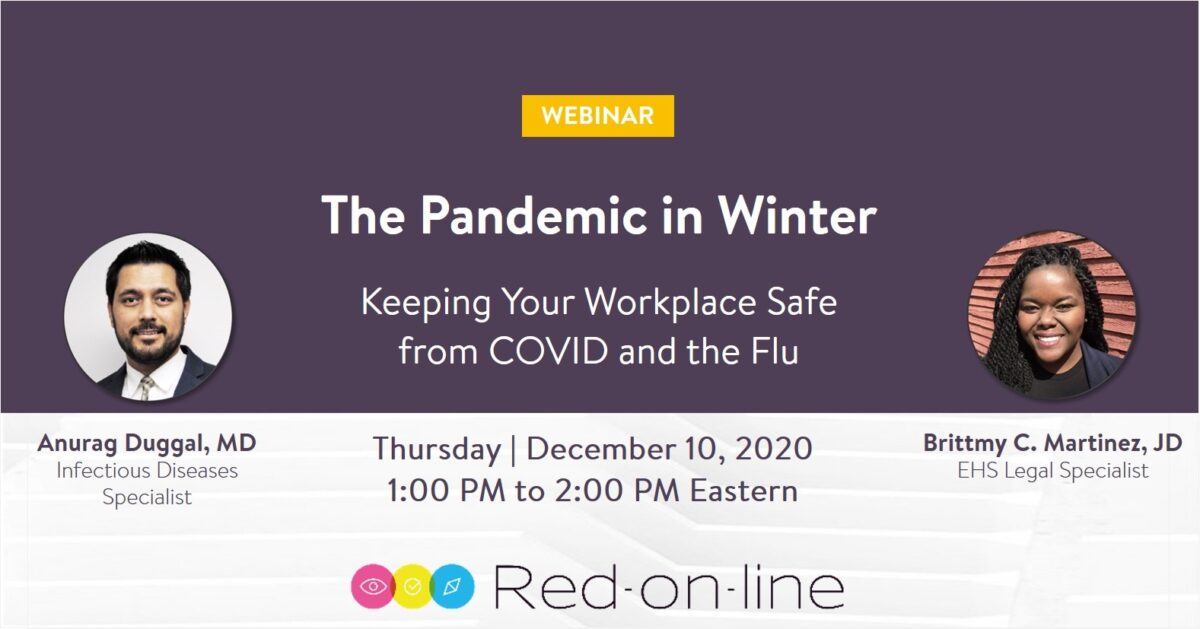 COVID guidelines continue to change as scientists learn more about the virus. And although workplaces have already implemented safety protocols to protect employees, those guidelines are changing yet again as COVID converges with the arrival of the flu. Are your current workplace precautions enough to protect employees from an epidemic within a pandemic? Do your practices align with regulatory mandates and recommendations? How do social and personal activities impact workplace health? Join our one-hour webinar for timely insights from our expert speakers, Anurag Duggal, MD, an infectious disease specialist in private practice, and Brittmy Martinez, JD, EHS Legal Specialist at Red-on-line. The vital and informative agenda includes:
A public health update on COVID, vaccines, and the latest strategies for fighting the pandemic.
An overview of workplace regulations and strategies to protect employees from COVID and the flu.
Guidance on opening and keeping your workplace safe.
Frank conversation about the impact of social and indoor gatherings, especially as the holiday season approaches.
We'll conclude with Q&A so you can zero in on what you need to keep your workplace healthy and productive. ____________________ About the Presenters Anurag Duggal, MD | Infectious Disease Specialist Dr. Duggal completed his Infectious Diseases fellowship at Cleveland Clinic and has a special interest in emerging infections. He practiced for over 10 years in Northeast Ohio before entering private practice in the Dallas-Fort Worth area in the summer of 2019. Dr. Duggal was recognized as Physician of the Year and served as Chief of Medical Staff at Cleveland Clinic Medina Hospital. He has earned accolades at multiple institutions for teaching, best clinical practices, and administrative excellence. Brittmy C. Martinez, JD | EHS Legal Specialist | Red-on-line Brittmy works with a broad range of industrial Red-on-line clients to identify EHS risks and comply with environmental, health, and safety regulations. She earned a Juris Doctor and Master's in Environmental Law and Policy from Vermont Law School. Brittmy is an experienced regulation consultant and operations professional skilled in management, policy analysis, and administrative law.