BLOG
US | WEBINAR: Safeguarding Your Workplace from COVID-19
#Centers for Disease Control and Prevention
#Coronavirus
#COVID-19
#Health & Safety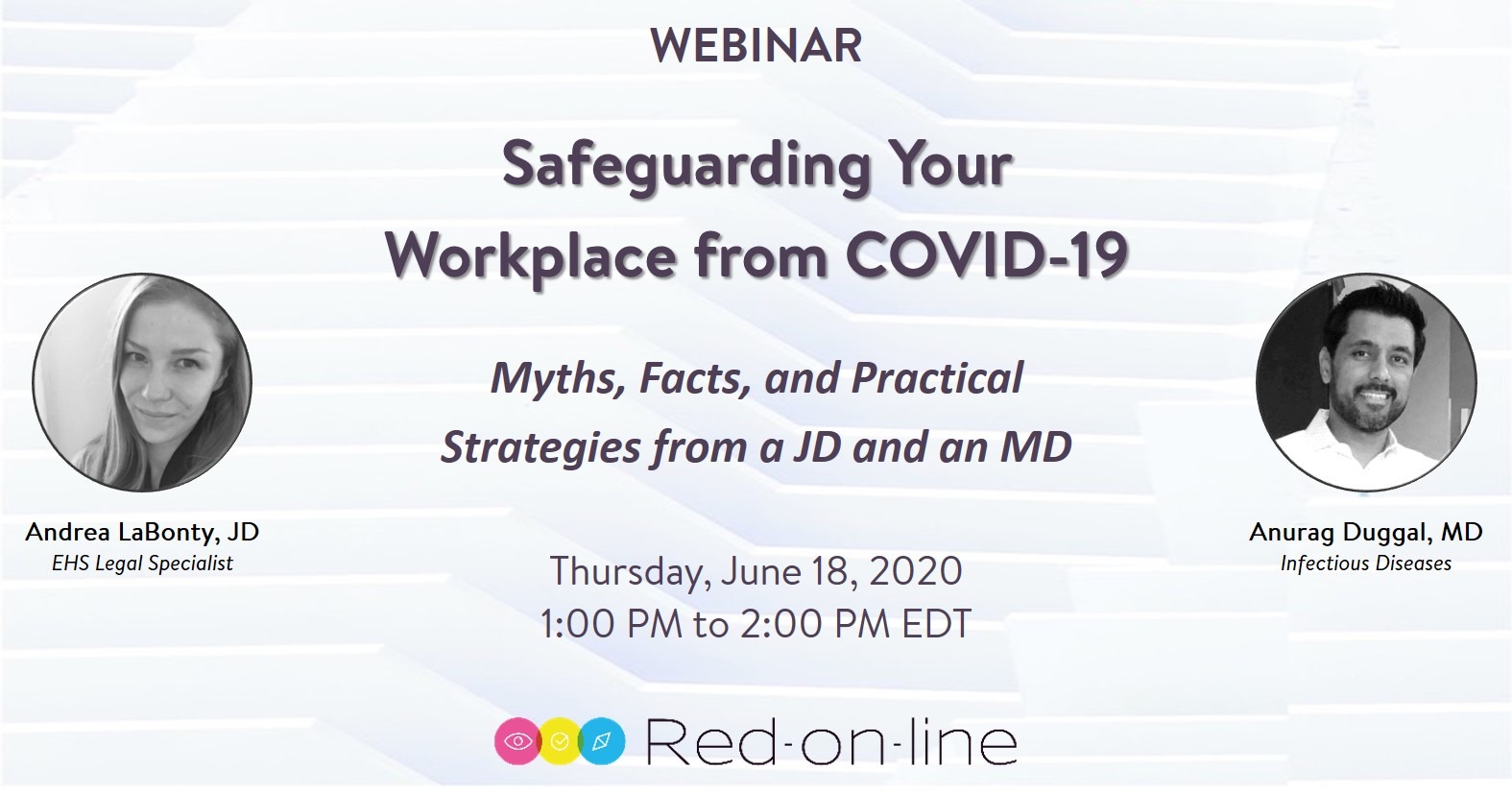 As more employees return to the workplace, businesses must take decisive steps to safeguard workers and prevent the spread of COVID-19. But misinformation is everywhere and it's hard to know which strategies are most effective. Should you take the same approach with an office environment as you do with a factory or industrial facility? What precautions are needed to reopen your business completely or increase your current workforce with returning employees? What guidance from the Centers for Disease Control and Prevention (CDC) should be part of your COVID-19 EHS plan? Stop guessing and get the facts! Our esteemed speakers, Dr. Anurag Duggal, an infectious diseases specialist, and Andrea LaBonty, JD, Manager of US Legal Content at Red-on-line, will share their expert guidance on creating a practical workplace pandemic strategy that incorporates the latest medical insights and ensures legal EHS compliance. Discussion topics include:
CDC guidelines and their place in your plan
Update on total cases and trends
Impact of civic protests on the spread of COVID-19
Myths and facts about COVID-19
Precautions all employers should take
Testing strategies and vaccines
Masking policies
We'll end with an interactive Q&A session to address your unique concerns. Don't miss this chance to shape an effective COVID-19 workplace strategy with insights from an EHS attorney and infectious disease professional! ____________________ Anurag Duggal, MD, completed his Infectious Diseases fellowship at Cleveland Clinic and has a special interest in emerging infections. He practiced for over 10 years in Northeast Ohio before entering private practice in the Dallas-Fort Worth area in the summer of 2019. Dr. Duggal was recognized as Physician of the Year and served as Chief of Medical Staff at Cleveland Clinic Medina Hospital. He has earned accolades for teaching, best clinical practices, and administrative excellence at various institutions. Andrea LaBonty, JD, is Manager of US Legal Content at Red-on-line. Andrea oversees the generation, distribution, and maintenance of US EHS legal content for Red-on-Line's clients. She specializes in the data architecture and content processes used by US EHS Legal Specialists to monitor, track, and maintain regulatory changes. Her efforts ensure clients receive custom and localized alerts to stay current on EHS compliance.