BLOG
Guidance on Transporting dangerous goods (EU)
#Carriage of dangerous goods
#dangerous goods
#Transporting dangerous goods
On 25th January 2017, the Department of Transport has updated the Guidance on Transporting dangerous goods. The guidance supports the regulations for the carriage of dangerous goods.
Dangerous goods are assigned different classes ranging from 1 to 9.
These classes cover goods from the highly dangerous, such as explosives, flammables and fuming acids, to everyday products such as paints, solvents and pesticides.
Recommendations on the secure carriage of dangerous goods are contained in chapter 1.10 of both the European Agreement Concerning the International Carriage of Dangerous Goods by Road (ADR) and the Regulations concerning the International Carriage of Dangerous Goods by Rail (RID).
The security provisions of ADR and RID apply in the UK through Regulation 5 of the Carriage of Dangerous Goods and Use of Transportable Pressure Equipment Regulations (CDG) 2009. Regulations 7 and 8 contain additional security provisions that apply in Great Britain (England, Scotland and Wales). DfT has published detailed guidance on the security requirements for the carriage of goods by road and rail.
When transported, dangerous goods need to be packaged correctly to comply with international and national regulations for each transport mode, to ensure they are carried safely.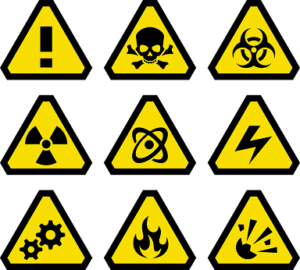 The Vehicle Certification Agency (VCA) Dangerous Goods Office is responsible for the certification of dangerous goods packaging within the UK.
Contents of the Guidance:
The Department for Transport has published a range of specialist guidance on transporting dangerous goods. Guidance on the carriage of radioactive material (Class 7) has been published by HSE. A simple overview of how to ship, package and label dangerous goods is available on GOV.UK.
The following guidance supports the regulations for the carriage of dangerous goods:

Sources: