BLOG
Proposed Fees for Electronic Hazardous Waste Manifest System
#Environmental Protection Agency (EPA)
#EPA
#hazardous materials
#Products
#Regulations
#waste
EPA proposes user fees for the electronic hazardous waste manifest system
In the July 26, 2016 Federal Register, the Environmental Protection Agency (EPA) published its proposed methodology for determining user fees for those submitting paper and electronic hazardous waste manifests to the national electronic manifest system that EPA is developing. The fee will help EPA recover its costs for developing and operating the electronic manifest system. EPA intends to collect fees from treatment, storage, and disposal facilities (TSDFs). TSDFs would be permitted to pass the cost along to transporters or generators. EPA proposes that only the regulated community –  those that generate, transport, or receive hazardous or other regulated waste – be required to pay user fees. Users that are only interested in viewing the data for non-regulatory compliance reasons, such as members of the general public or government officials, will not be required to pay access fees. The proposed rule collects the user fees from hazardous waste treatment, storage, and disposal facilities (TSDF). Due to the vastly smaller number of TSDF sites compared to hazardous waste generators, the collection of the user fee is expected to be much simpler. TSDFs could choose to pass the cost along to their customers, thus ensuring all entities involved in the waste stream pay their fair share. EPA is considering whether TSDFs should be billed after each month for their actual usage. To help ensure that EPA is paid promptly, EPA is considering sanctions for the late- or non-payment of the user fees.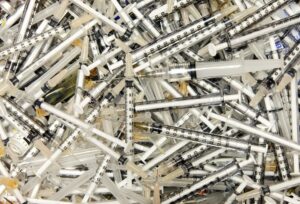 EPA's preferred fee structure allows EPA to charge different fees depending on the type of manifest submitted. Under EPA's one year rule, TSDFs can continue to submit paper manifests, scanned copies of paper manifests, image and data files, or the national electronic manifest format supported by the electronic manifest system. EPA does not intend to charge a fee premium for consolidated manifests, but will charge a fee for each original manifest that is consolidated, plus a fee for the "cover" manifest that links the original manifests and describes the total amount of waste shipped. Split or breakdown shipments will similarly not be charged a premium, as these shipments will also require multiple manifests. EPA will also not charge a premium for hazardous waste rejections or regulated residues. Partial rejections and regulated residues will require new manifests, and are thus paying into the system. Hazardous waste rejections forwarded on or returned to the generator under the original manifest will require additional information, but EPA is not currently considering charging a premium. EPA does intend to charge a premium for the collection and return of stray and unnecessary documents as well as processing corrections for paper manifests. Finally, EPA proposes permitting mixed electronic and paper manifest transactions in certain situations. The general requirement that an electronic manifest may be used only when it is known that all waste handlers may participate electronically. EPA proposes an exception allowing generators to sign by hand and retain a paper copy of the manifest signed by hand by the initial transporter. Public comments will be accepted through September 26, 2016.

Sources :

EPA, Proposed rule, Hazardous waste management system user fees for the electronic hazardous waste manifest system, 81 FR 49071, July 26, 2016 Enjoyed reading this article? Here are just a few others that might interest you: Changes to the EPA's Significant New Uses of Chemical Substances Regulations (US) EPA Approves New Hampshire Air Plan (US)

Our EHS experts are at your disposal and will be happy to answer your questions.

We invite you to subscribe to our newsletter.