BLOG
US | WEBINAR | PFAS: An Emerging Priority for EHS Professionals
#Chemicals
#compliance
#Environment
#Health & Safety
#Regulations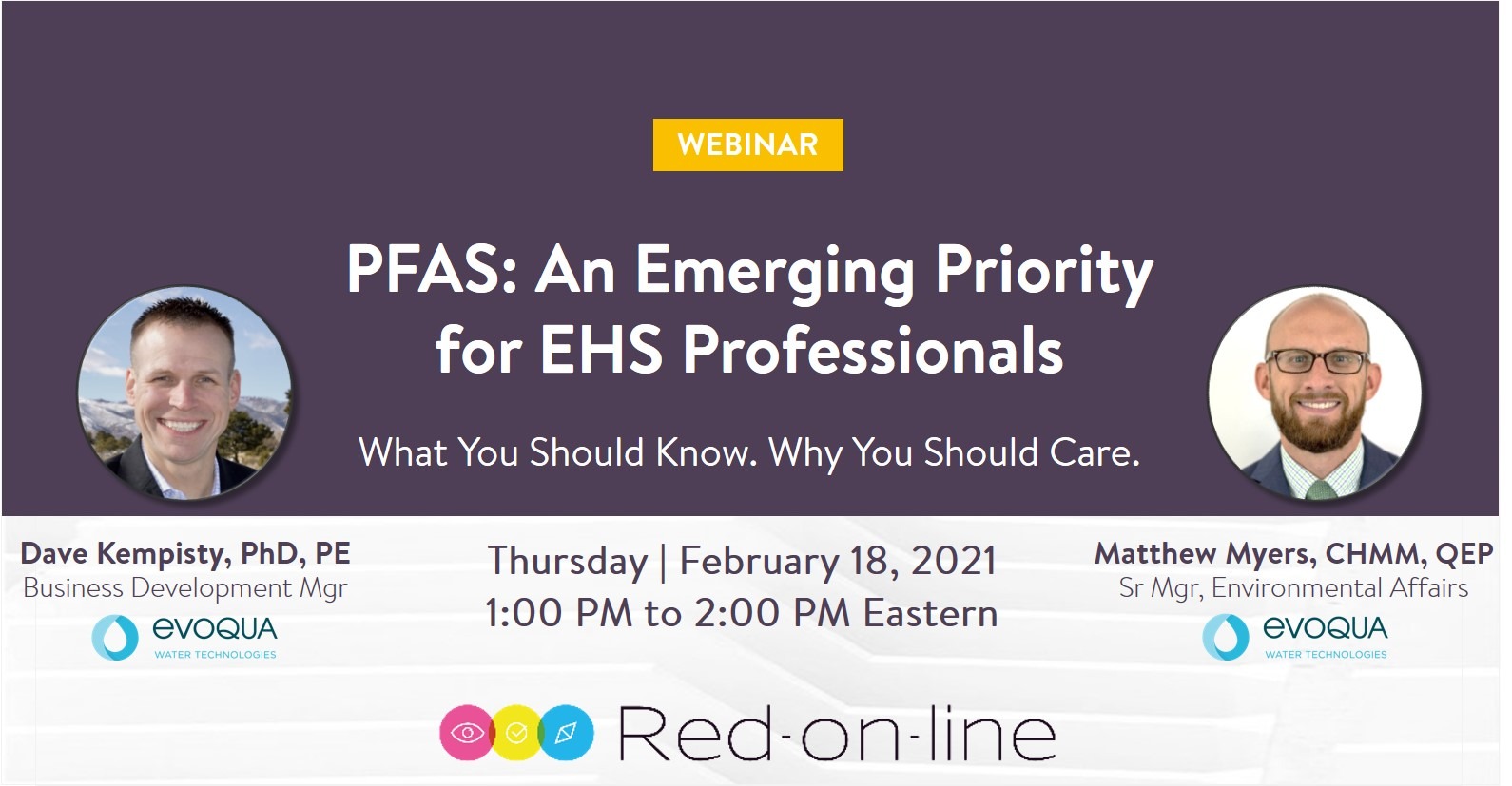 The Biden Administration has already taken steps toward strengthening EHS regulations and it won't be long before it focuses on PFAS. Why? Because these per- and poly-fluorinated alkyl substances are heavily used and are showing up in the most unexpected places, including the human body. What's worse is that PFAS don't break down under most environmental conditions. They are here, and they're here to stay. New EHS mandates will likely affect all industries, even those that don't use or produce these chemicals. At some point, you may be affected by evolving EHS regulations and PFAS remediation mandates. Are you ready? Join our one-hour webinar for timely insights from PFAS experts, Dave Kempisty, PhD, PE, and Matthew Myers, CHMM, QEP, of Evoqua Water Solutions. Their vital and informative presentation will help you understand:
The nature of PFAS and how it is used
Its negative effects on human health and the environment
How emerging toxicology is likely to change PFAS policies and regulations
PFAS removal and remediation strategies
We'll conclude with a Q&A session to help you assess how PFAS should be prioritized in your organization. About the Presenters Dave Kempisty, PhD, PE | Business Development Manager | Evoqua Water Technologies Dave is a licensed engineer focusing on emerging contaminants. He has a well-balanced perspective on today's environmental issues and has authored over 25 peer-reviewed papers and presentations. He was also lead editor to the 2018 book, "Perfluoroalkyl Substances in the Environment." As part of Evoqua's Environmental Solutions Scientific and Technical Team, Dave is involved with bench- and pilot-scale testing of numerous innovative technologies. Prior to Evoqua, Dave served 22 years in the United States Air Force as an environmental engineer. He earned a Ph.D. in Civil and Environmental Engineering from the University of Colorado-Boulder, and holds an MS from the Air Force Institute of Technology and a BS from Michigan Technological University. Matthew J. Myers, CHMM, QEP | Corporate Environmental Manager | Evoqua Water Technologies Matt leads domestic and international operations to ensure compliance with federal, state, and emerging environmental regulations, including PFAS. He has 15 years of corporate environmental compliance and consulting experience, specializing in air, water, and waste permitting, remediation, auditing, and regulatory reporting across industrial, manufacturing, pharmaceutical, agricultural, and Department of Defense operations. Matt earned an MS in Environmental Management from Duquesne University, and holds a BS in Biology from Westminster College (PA).